Apple has officially released a new lineup of the 24 -inch iMac computers with a number of improved specifications and features.
One of the major updates that it brings is in the performance aspect, the new 24-inch iMac now supports the ARM-based Apple M1 chip rather than the 10th generation Intel like the older 2020 iMac.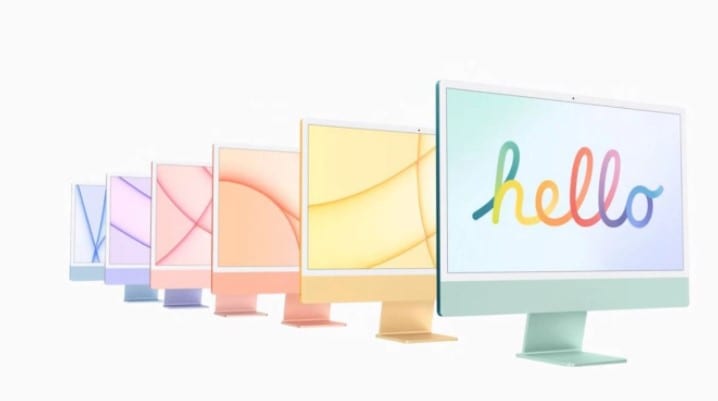 Features
One of the most noticeable features of this release is the fact that the 24-inch iMac now comes in colors. Users can choose up to seven color options of Blue, Green, Pink, Silver, Yellow, Orange, dan Purple.
The iMac 24-inch doesn't only come with a wide variety of colors to choose from, there are also three variants of the M1-chips users can select from in terms of hardware.
All three variants carry the same number of 8 CPU cores As for RAM and storage, there are 8/256 GB and 8/512 GB RAM variants.
To get the best performance possible, this latest 24 -inch iMac can also be upgraded with up to 16 GB of RAM and up to 2 TB of SSD storage media.
The M1 chip embedded in the 24-inch iMac is also claimed to have a faster CPU and GPU performance when running heavy-duty applications such as Photoshop.
Apple also mentions that the new M1 chip is 50% faster and has better graphics than the old 21.5 -inch ‌iMac‌.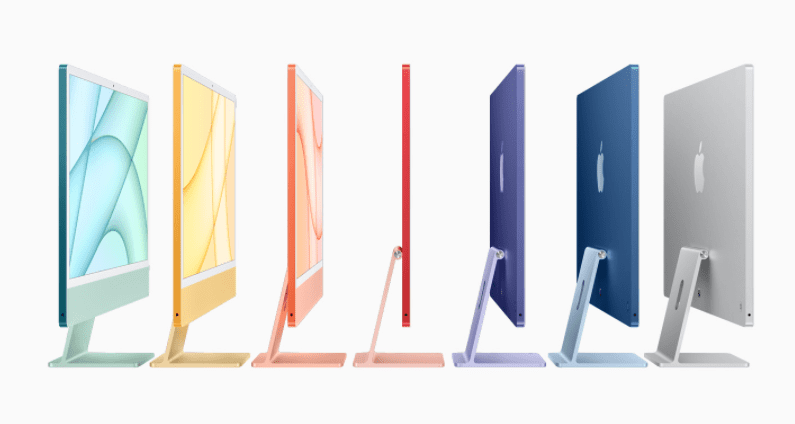 When it comes to the design, the 24-inch iMac is thinner by design thanks to its 11.5mm screen thickness. The screen also has a new resolution of 4.5K with Retina Display, which supports a brightness level of up to 500 nits.
The 24-inch iMac also supports True Tone technology that adjusts its screen automatically to the level of the lightning in the room it's used in.
Apple also embedded a Neural Engine processor to improve image quality, reduce noise, and produce better exposure and white balance in the new iMac.
Other features include a 1080p FaceTime HD camera, three microphones, Hey Siri digital assistant, WiFi 6, 3.5 mm audio jack, Bluetooth 5.0, six speakers from Dolby Atmos, and two Thunderbolt/USB 4 ports.
Price & Availability
As of right now, the price of the 24-inch iMac varies depending on the variants and specifications such as the following: iMac M1 with 7 GPU Core and 8GB/256GB RAM is priced at $1,299.
The iMac with 8 GPU core and the same RAM and storage retails at $1499. While the iMac M1 with 8 GPU core and 8GB/512GB is priced at $1,699.
You can get the 24-inch iMac from Apple's official website or any authorized Apple store nearby.