Recently, Hennessey announced a new creation that goes a bit beyond their usual performance upgrades of the RAM 1500 TRX pickup.
The new model is called the Hennessey RAM TRX SUV Mammoth 1000. Based on the very strong Ram 1500 TRX pickup, the Mammoth will come with modified bodywork and a revamped interior.
Features
One of the most major upgrades of the RAM TRX is its SUV functionally. Now, the RAM mammoth is an SUV that can accommodate seven people.
With the 7 seaters and five doors, the RAM mammoth comes with enough space to carry a large family. The front and the middle chairs also come with foldable third-row seats.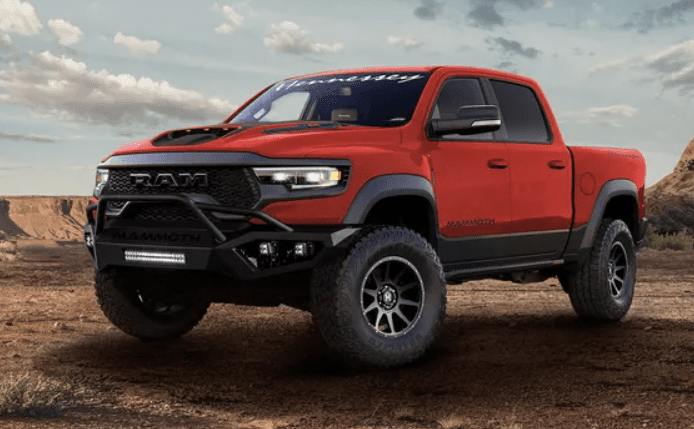 In addition, Hennessey Mammoth 1000 SUV is also expected to have a 6.2-liter V8 supercharged engine that can produce up to 1,012 horsepower.
A very powerful upgrade in comparison with the original version of the TRX 1500 Ram car which only comes with 702 HP.
Hennessey also claims the Mammoth 1000 SUV can go from a speed of 0 to 60 mph in about 3.2 seconds – an incredible speed for a 7-seater SUV.
Hennessey also extends the roofline over the tub to create a completely enclosed cabin, constructing a new C-pillar that extends from the taillights.
It features a 2.5-inch suspension upgrade, using 20-inch rims and a 35-inch off-road wheel, to make the SUV more durable for any kind of driving, whether it's on or off-road.
Price & Availability
As of right now, the Mammoth 1000 SUV is in the pre-order phase. It has a base price of $375,00 and will be limited to 20 units worldwide.
Each vehicle will be fitted with special serial numbered plaques to make it more unique and special.
You can order the Mammoth 1000 SUV from any authorized FCA / RAM retailers or directly through Hennessey's official sales representatives.