The compact flashlight is one of those things that often go unnoticed but brings a lot of conveniences when a power outage strikes. Recently, Nitecore has launched its very first T4K 4000 lumens super bright keychain EDC flashlight.
The flashlight comes in a small and compact size, easily fitting inside your pocket and fist. However, when it comes to power the T4K flashes high-powered headlights as bright as those on your car.
Features
The Nitecore T4K 4000 lm super-bright keychain comes in a sleek black box with an instruction booklet, a keychain clasp, a charging cord, along with the flashlight itself.
It has 5 brightness levels with a maximum output of 4000 lumens. To show the brightness and the battery level, the flashlight features an OLED display and a dual-switch button.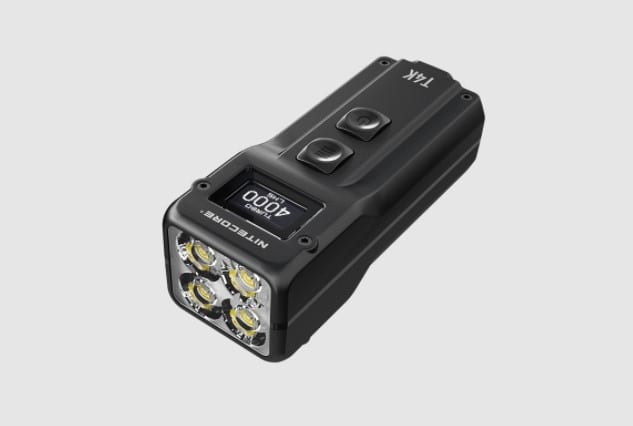 Thanks to the 10 seconds burst of 4000 lumens light, the Nitecore T4K is claimed to be the world's brightest and the most compact keychain night. 
It comes with a built-in 1000 mAh rechargeable battery and a USB-C fast-charging port. It fully charges in under 1.5 hours and provides over 67 hours of effective runtime.
Being a compact keychain, the Nitecore only weighs about 76.3 grams with 25.2 mm thickness and 36.34mm length. 
Its bulky design does make it a little noticeable than normal keychains. However, this type of design can be a good idea to attach to your essential keys like a car, house, or even a bike.
Moreover, since this flashlight can light up a wide range of areas, you can use it for emergencies when you're out and about. No more worry about getting lost at night when you're on an adventure!
Price and Availability
As of right now, the Nite T4K only comes in one color priced at USD $89.95.